Ambulette Service
Ambulette Service in Manhattan | Brooklyn | The Bronx | Queens | Staten Island | New Jersey | Long Island
Same-day Ambulette Transportation services in New York City
We support standard and oversize wheelchairs, Walkers, and Gurneys.
Non-emergency Ambulette transport service to your Dr. Appointment
Curbside service or Room to Room transport,
Stairs Assist
Call Ambulette service now and discuss with an account specialist. Then, we are ready to take your call and suggest the best solution for you.
212.705.8773
Free Quote
Doctor Visits Ambulette Service
When you have your doctor appointment scheduled, book an Ambulette Service with a return trip for an hour later. Although you may take longer, we will not send the car for your return trip until we hear from you first. Learn more
Non-emergency Ambulette Service
We offer Ambulette transportation services for all your medical transfer needs. You can schedule in advance for any time of the day. Our vehicle fleet includes wheelchair-accessible vehicles of all sizes.
Ambulette Service in NYC and beyond: Manhattan, Brooklyn, Queens, Bronx, Westchester, White Plains, Long Island, Staten Island, and New Jersey. Learn more
Ambulette Senior Transportation Service
Our professional Ambulette Senior Transportation service drivers don't simply pick up and drop off your elderly household members.
Instead, we assist your loved ones in getting ready, accompanying them, and providing any help required at the destination.
We'll provide a curbside pick-up or room-to-room service, depending on your needs. Learn more
Two Men Step Assist Ambulette Service
If you're a wheelchair user and need help going down or downstairs, Ambulette Service can help!
Our professional staff members will help to lift you. With a 650 LB weight limit, two or four staff members will safely get you anywhere you need to go. Learn more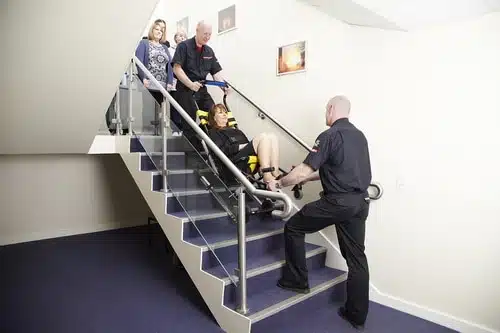 Hospital Discharge and Transfer
Need a short or long-distance Hospital transfer? Are you just getting discharged from your hospitalization and looking for a quick ride home? We're here to help. We have wheelchairs in case you don't have one.
212.705.8773 | Chat | Email | Quote
Frequently asked Questions
I live on the fourth floor and my building has no elevator. Can you carry me up and down?
Yes. Depending on your weight and staircase, we will have to provide two or more operators and a special stair chair.
We do not have a wheelchair. Can you provide one?
Yes, we offer many types of Wheelchairs: Transport, Geriatric, Geriatric, with leg-rest ETC.
If I need service now can you help?
Yes. But not always. Please keep in mind that we are a non-emergency service. We will try to dispatch your call ASAP, however, we suggest scheduling a reservation as early as you can to assure timely service.
Do I have to make a reservation?
Yes you need to make a reservation, even if you need the ride for at once, booking a car can take as little as 5 minutes, and often we're available as little as 10 minutes away (depend on the pick-up location)
Can you accommodate a power wheelchair?
Yes! Our vehicle can accommodate the below list:
1) Power or Manual Wheelchair Passengers
2) Electric Scooters
3) Two Passengers that are Wheelchair-bound
4) A ramp or a lift vehicle can be requested
I need to travel long distances, can you provide such service?
Yes. If the travel time is more than 12 hours, we provide two drivers for additional assistance.
How many additional passengers can travel with a wheelchair?
Depends on the size of the vehicle, we can accommodate one wheelchair passenger and up to 6 additional passengers
Do you pick-up from airports?
Yes! We can pick up from all airports in the metro NY NJ & CT area. We offer curbside and meet & greet services.
NY JFK John F Kennedy International Airport Wheelchair Taxi
NY LGA LaGuardia Airport Accessible Transportation
NJ EWR Newark Liberty International Airport Handicapped Taxi Service
Other
Airport
& Seaport Service is also available
Do you pickup from Hospitals?
Yes! We provide hospital discharge of transfers and medical appointments services.
Round Trip Service is also available, we can wait downstairs or come back when you're done, st call us back and we'll be there in minutes.
Can you accommodate more then one wheelchair bound passenger in one vehicle?
Yes. We can transport up to 2 wheelchair bound passengers per van. We have a Sprinter that can carry 2 Wheelchairs ot a Bus to accommodate 7 Wheelchairs together.
Can we reserve a round trip?
Yes! You can reserve a round trip and multiple stops.
You may also book the entire month of appointments, so you are worry-free.
Even if you're not sure what is the return time, just give us a call and as long as you have a return reservation, we will give you priority on other callers, and let you "Cut the Line"
Do you accept credit cards?
Yes! We accept all major credit cards.
You may send a check to:
NY NJ Taxi Corp
387 Park Ave S. 5th Floor
New York, NY 10016
What type of payment method are you accepting
We accept all credit and debit cards.
When creating a reservation on-line or by phone, a reservation email will be sent to you, you will follow a link on that email to update your credit card info.
My father is overweight person. Is there a weight limit for the service?
Our current weight limit is 650LBS
What is Non-Emergency Medical Transportation?
Non-emergency medical transportation is a form of medical transport that is provided for non-emergency situations to people who do not require immediate medical attention. Non-Emergency transportation is a safe and comfortable way of disabled travel without having to transfer from your wheelchair, stretcher, oxygen tank along with any other apparatus needed as long as you do not require immediate medical attention from an EMT, DOCTOR, or NURSE. Ambulances, helicopters, and other emergency transport vehicles may also be used in non-emergency medical transport, however, the primary use of this type of transportation is to travel with a medical team that can provide urgent life support if the need arises. This type of service can be considered expensive if you do not require such assistance. Thus, Non-Emergency transportation is available by ambulette providers like us.
If I need service now can you help?
Yes. But not always. Please keep in mind that we are a non-emergency service. We will try to dispatch your call ASAP, however, we suggest scheduling a reservation as early as you can to assure timely service.
Call Us Now 212.705.8773
My mother is handicapped. Can I travel with her in the same vehicle?
Yes you can, sometimes we can accommodate up to 6 other passengers.
Do riders pay tolls or surcharges?
Yes: if the predicted route used in your upfront price includes an estimated toll, surcharge or other fee, it will be automatically included in your trip price. Examples of these charges can include (but are not limited to):
– Tolls associated with your trip's route
– Tolls associated with your driver's return to the area in which they usually conduct trips
– Surcharges to or from airports, seaports, stadiums, and other venues & events
– City-specific surcharges meant to offset governmental fees imposed on rideshare services
If the tolls or surcharges on your route differ from our predicted route, the price of your ride may change.
WHO KEEPS THESE TOLLS & SURCHARGES?
Depending on the reason and location, these additional charges may be kept by your driver, paid by your driver to NYC Wheelchair Transportation or related entities, or passed through (in whole or in part) to a governmental agency or other third parties. Please also note that these charges to your trip's price may not match the amounts kept by the parties mentioned above. Here are a few examples of when this may occur:
– You may be charged an estimated toll at the commercial toll rate even though your driver pays the non-commercial rate.
– You may be charged an estimated toll for your driver's return to the area in which they usually conduct trips, even if the toll doesn't apply in the direction of your trip's route.
– The tolls or surcharges you are charged may differ from the actual amount paid by a driver, such as when electronic and cash toll amounts differ.
– In certain areas, a surcharge is added to your trip price even though the location does not collect a corresponding payment from NYC Wheelchair Transportation or your driver.
– Depending on the area and the charge(s), multiple passengers may each pay the full amount of the estimated charge(s).