Best Funeral Accessible Limo Transportation Service In NYC
Here at NYC Wheelchair Transportation, our personally-owned limousine fleet is also available to provide handicap and wheelchair accessible transportation services for funerals.
We understand just how fragile these situations can be, and will always do everything that we can to work with our clients to ensure that transportation is the last thing they have to worry about on this tremendously difficult day.
In fact, we'll do everything we can to ensure that they have nothing to worry about. Simply give us a call with some information regarding the date and time of pickup and drop-off, so that we can instruct one of our drivers to do everything they can while in your service.
At NYC Wheelchair Transportation, we're always standing at then ready to lend a helping hand.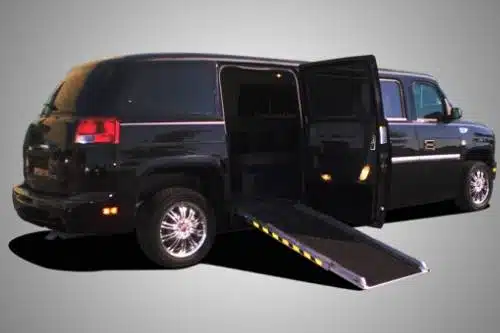 Wheelchair Accessible Limousine
Wheelchair Accessible Limousine servicing Manhattan, Bronx, Queens, Brooklyn, Staten Island, Long Island, Westchester, White Plains, Jersey City, Newark
Our 56 Passenger Bus Service is exceptional, our buses no more than 5 years old.
The bus that can accommodate wheelchairs, can hold up to 8 wheelchair passengers.